Last July, Viktorija Balčiūnaitė, a student of Kaunas University of Technology Faculty of Social Sciences, Arts and Humanities (KTU FSSAH), went to study in the Netherlands for half a year. Little did she know, that this study exchange will her provide with the opportunity to take up an important position in an international company would arise so soon.
The third-year student of Communication Studies and Information Management Technologies was thinking about studies abroad since she was a child. The idea to study in the Netherlands appeared during the school years. This encouraged Viktorija to choose the KTU study programme, which grants the opportunity to spend one semester at the University of Twente.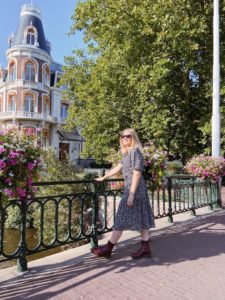 "When I decided to study at Kaunas University of Technology, I had already decided that I would be taking advantage of the Erasmus+ exchange program", says Viktorija.
Although she is planning to travel and live in other countries in the future, the student is currently enjoying an interesting experience in the Netherlands.
Had a chance to know Dutch traditions
Viktorija admits that before leaving home, she was mostly intimidated by the pandemic: "In July, when I arrived in the Netherlands, I was surprised, because it seemed like they don't know what COVID-19 is".
The Dutch have a tradition of holding a market in the city centre every Saturday.
"I would go to the market and there would be so many relaxed people", says Viktorija.
Everyone was working, the number of people relaxing at bars and outdoor cafes was surprising, and wearing masks was not even mandatory. Viktorija even had a chance to attend several Friday meetings that were hosted by the company she did her internship at. Later, in October, the lockdown began, and in January the curfew hour was introduced.
Effectively used various tools for distance learning
When asked about the organisation of studies during the lockdown, Viktorija says that the digital learning system at the University of Twente is truly advanced: "For group work, we used many various platforms that were adapted for different project completion stages, and it helped to effectively communicate in teams."
The University of Twente tried to use all possible digital communication. Distant open-door days and direct broadcasts were organised, there was a possibility to learn working in groups, various university associations shared activities online.
University lecturers were very supportive and encouraged not to worry about group assignments that were done remotely.
"We had to create documentaries, and the lockdown made this task a lot more difficult. However, the lecturers tried to teach us how to beautifully visualise interviews done by computer", says Viktorija.
Before the lockdown was part of the Uni handball team
The student admits that she did not have a chance to spend much time studying at the university premises.
"Only around 20 per cent of the time I spent at the University of Twente because all the lectures were delivered remotely", says Viktorija.
Before the lockdow, she spent her free time actively and was part of the university's handball team.
A big part of studies in the Netherlands is teamwork-based, so at first, Viktorija would go to the university to meet with her group and the coordinating lecturer. The theoretical exams were also held at the university: "This was the only time I saw all of my friends from the course."
Bachelor studies are not only for studying but also for exploring yourself – the more activities you are involved in, the more useful it is to the development of your personality, – encourages Viktorija Balčiūnaitė, KTU Communication Studies and Information Technology student.
She adds that the young people she met at the University of Twente are the same as in Lithuania: "I think that young people everywhere are just trying to find themselves."
The girl was impressed with the fact that the University of Twente has a sort of student city of its own, where you can find not only student residences but also grocery shops, barbershops, medical services.
The University of Twente encourages entrepreneurship. The community of the university creates many start-ups every year: "The company I did my internship at and that I currently work in, was also created by the students of Twente University 20 years ago."
The beginning of a career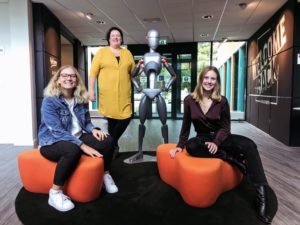 Before starting her studies at the University of Twente, Viktorija participated in an Erasmus+ internship, which she also did in the Netherlands, at an international company "Xsens".
"The company creates motion capture technology and is one of the market leaders in its area. Activities of "Xsens" cover a wide area – from the technology required in creating fantasy films to autonomous car manufacturing", says Viktorija.
The student did her internship in the marketing department: "My main goal was to develop a social networking strategy."
Representatives of the company noticed the student's layout and video-making skills, so she also had the role of a graphic designer. The additional knowledge of working with various programmes and her personal skills, such as flexibility, helped Viktorija in continuing her job at the company. She now continues to administer social networks by the strategy she developed during the internship.
"Even though I started the internship with the goal of creating a strategy, I successfully proved the importance of social media to a B2B (business-to-business) marketing and now I work on projects with a team", she says.
Cultural experience
Viktorija says that the Dutch like to carefully plan the future.
"I have a friend with whom I have to make plans a week in advance even if it's something as simple as going for a walk", Viktorija laughs.
The Dutch are also very sporty, they ride bicycles and like jogging: "Even in the company that I work at, some people go for a run during a lunch break."
Viktorija had the opportunity to get to know more than just the Dutch culture as she lives with students from India and Iran.
"We celebrated Christmas together. To my flatmates, Christmas is not a holiday, so I introduced them to my family traditions, told them about the twelve-dish Christmas Eve supper, we decorated a Christmas tree", says Viktorija.
Bachelor studies are just a beginning
Viktorija admits that she really wanted to study in the Netherlands since high school, and after graduating, first, she applied for design studies there. However, at that time, Viktorija was unable to enter the university she chose. Because of this failure, she decided to take a gap year and to learn design by herself and gain more experience. After another unsuccessful attempt, Viktorija realised that she needed to try out another field of studies. Communication studies at KTU seemed like a good idea because she was not only interested in design, but was also a socially active person. Besides, her family encouraged the girl to choose studies in Lithuania.
"Thus I found a study programme that collaborates with a university in the Netherlands and grants me the opportunity to receive a double diploma, which seemed like a great prospect to me", says Viktorija.
Students often have many fears, and it stops them from going on study exchange and using Erasmus+ possibilities. Viktorija assures that feeling afraid is a good indicator that you are doing something new, and it encourages you to explore and learn.
"Bachelor studies are not only for studying but also for exploring yourself – the more activities you are involved in, the more useful it is to the development of your personality", encourages Viktorija.
She admits that before leaving for the Netherlands, she did not expect to receive a job offer that requires so much responsibility. However, today Viktorija has a work contract until September and plans to seek a master's degree in the Netherlands.
__
Are you interested in studies, which would take you places? KTU is a good place to start. Admissions for the Autumn Semester 2021/2022 are now open. Choose your studies and apply today.