The conference "Complexities of Risk and Uncertainty", organised by Kaunas University of Technology (KTU), held on the 4th and 5th of October, has gathered researchers from over 10 countries. They analysed complex risks, modes of uncertainty and other related threats and challenges that occur in today's world. Problems of Lithuania and its regions have been discussed, and global discourses on risk and uncertainty have also been touched upon in the conference.
The European Sociological Association (ESA) research network "Sociology of Risk and Uncertainty" entrusted the organisational matters of the conference to the research group of Civil Society and Sustainability at KTU faculty of Social sciences, arts and humanities. It is the first international conference of this kind held in Lithuania.
Challenges Relevant Today
The Global Risk Report, presented at the World Economic Forum this year indicates that interconnections of risks are deepening, societies face systematic challenges that are related to growing signs of uncertainty and instability.
This was the focus of the scholars participating in the conference.Conference included three keynote talks, namely from Sylvia Walby, Distinguished Professor of Sociology and UNESCO Chair in Gender Research, Lancaster University, Sakari Taipale, Academy of Finland Research Fellow, Research Group Leader in Centre of Excellence in Research on Ageing and Care, University of Jyvaskyla, Finland and Esther Versluis, Professor of Regulatory Governance, Maastricht University, the Netherlands
In different sessions, the participants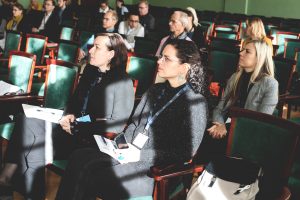 of the conference discussed methods and methodologies in risk and uncertainty research, public discourses and media representations of risk, risks in health and social care, governance of complex risks and many more. They presented the newest research results, discussed theoretical and methodological advancements in the studies of risk and uncertainty.
"We investigated what kind of challenges and also opportunities complexities of risks are posing to the individuals, communities and nations, how various forms of complexities are being defined and conceptualised, and how they can be reduced through everyday practices and/ or institutional changes. The conference in Kaunas is an important support for the development of sociology of risk and uncertainty in this part of Europe and also an opportunity to increase the networks' inclusiveness and diversity.", said Assoc. prof. Dr. Aistė Balžekienė, Principal Researcher of Civil Society and Sustainability research group.
A Chance to Learn
The participants of the conference said that they enjoyed the academic aura of the conference and the opportunity to discuss the relevant topics. They also were very welcoming of a cultural programme related to the history of Lithuania and the city of Kaunas.
"Thank you to ESA and KTU for organising a brilliant conference. I've gained extremely valuable insights into the sociology of Risk. Linguistics and Sociology complement each other on so many levels and we should foster future collaboration", said Tom Rausch from Queen Mary University of London, United Kingdom.
Added Value – Intensive Courses for PhD Students
On the 2nd and 3rd of October, an international PhD school – intensive courses about researching risk and uncertainty – took place. The courses lasted two days and were mainly aimed at PhD students of social sciences. Two students from KTU and six students from abroad have participated.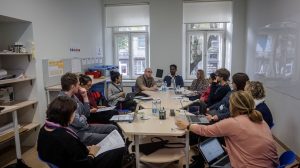 Participants had the opportunity to introduce their theses and get valuable comments from professors of risk sociology, Jens O. Zinn from University of Melbourne and Anna Olofsson from Mid-Sweden Universit. "Intensive courses in small groups is a great opportunity not only to get feedback on the Phd theses, but also to connect with risk researchers and create new networks for future cooperation", noted Aistė Balžekienė.
The Fourth Conference of ESA Research Network
European Sociological Association (ESA) research network "Sociology of Risk and Uncertainty" was established in 2007. Over the past decade, this network has been drawing attention of academic community to the risks and modes of uncertainty in public. The conference held at KTU is the fourth conference of this network. Previously it was held in Ostersund (Sweden), Amsterdam (The Netherlands) and Stuttgart (Germany).
The conference has received over 50 participants, over 30 scholars, and three keynote speakers, who are researching the areas of risk and uncertainty, have introduced their findings. They are all representatives of sociology, politics, IT, mathematics, and other fields.
The summaries of the conference abstracts are available at: http://bit.ly/2EnMG6d