When faced with a need to choose a study path, you might feel confused. Having more than one favourite activity or area of expertise, you might feel reluctant to dedicate yourself to one particular study programme. No need to worry! Certain KTU study programmes have additional competencies integrated into the main study path – just look for the programmes marked BA+.
In such a way, while studying informatics you can learn foreign languages while learning linguistics you may also acquire design skills, and numerous other options are available for KTU students.
After finishing school, Kaunas University of Technology (KTU) alumna, who has just recently graduated with her bachelor's in linguistics, Raminta Strumilaitė was considering several study fields. Finally, she decided to choose not one, but two – linguistics and marketing. Today, remembering all the hesitations, she says that the BA+ competencies' opportunity gave the final push for choosing New Media Language as her major.
Bachelor's studies "with a plus" encouraged to study master's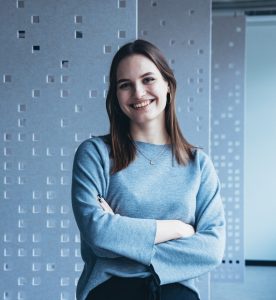 "Before applying, I had carefully studied all the programme descriptions and opportunities, so the acquisition of additional competencies seemed to be an asset, which would later become a great advantage in terms of my future career. I was right," says Raminta.
Currently, she is working as a brand manager and is very grateful to the university for the opportunity to get a broad scope of knowledge and skills.
In the second year of her studies, Raminta chose marketing as an additional BA+ competence, hoping to apply this knowledge in the future.
"During the linguistics studies, I trained my ability to look at different decisions from an artistic or philosophical point of view. This adds charm to the creative advertising campaigns or social network strategic decisions we develop at work," says Raminta.
The classes available when choosing the BA+ competencies focused on the basics of marketing.
"In marketing studies, everything was new and completely different from what we were used to while studying humanities. After several classes, it became simpler," says the KTU alumna.
While still in her studies, Raminta got a brand manager job in a company specialising in social media advertising, where she applied skills and knowledge from both her study areas. In the company, the KTU graduate contributes to the implementation of both strategic and creative brand solutions, aimed at more efficient visibility of brands on LinkedIn.
"The desire to further develop and acquire broader marketing competencies encouraged me to continue studying – for my master's I chose digital marketing. Since I had the basic knowledge in this field, it had a big impact on the motivational assessment for admission," says Raminta.
KTU students can choose BA+ competencies available for a certain study programme. On the study programme descriptions on the KTU website, look for the BA+ sign, which means that the option of choosing additional competencies is applied to the programme in question.
Competence acquisition is confirmed by a certificate issued by KTU and a record in your diploma appendix upon graduation.
Participating in Students' Union activities provided long-term connections
Strumilaitė is excited that during her studies at KTU she was able to meet many different professors and professionals in the field, whose lessons she applies every day at work and in her personal life.
"The academic community, studies and after-lecture activities shaped my personality after school," says the recent New Media Language study programme graduate.
Raminta, the former chairwoman of the Students' Union of the Faculty of Social Sciences, Arts and Humanities, emphasises the importance of the KTU Students' Union, the community essential to every university. She recommends becoming a member of the Union not only for the first-year students at KTU but also later.
"It's such an optimal starter pack for the beginning of life and a wonderful addition to your studies," says Raminta.
The young professional says that she changed several positions in the Students' Union, which taught her teamwork, time planning, organisational management, understanding and processing of documents, and public speaking skills. Not to mention discovering new connections within the faculty and the community of the entire university.
Admissions to the Kaunas University of Technology for the autumn semester are open until July 31, 2022. Choose your study programme and apply now.